Product Description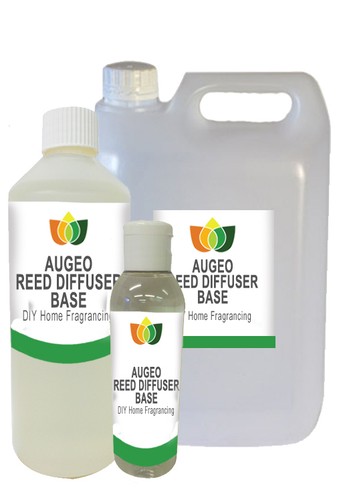 Augeo Oil Base For Reed Diffusers & Home Fragrancing

Used by Therapists, Professionals, Artisans & Home Users
All Sizes from 10ml to 25 Litres supplied in Plastic Bottles, Jack or Plastic Drum
Approximate weight calculation is 1 Kilo per Litre
Botanical Name and Expiry Date on Label
Batch Code for full Traceability
Multiple Uses including Blends, Massage and Skin Care
Page down for full Product Information >
augeo Base oil
Augeo an exciting solvent made from a renewable source. With excellent solubilising power, low evaporation rate and low odour, Augeo is by far the best diffuser base we have found to date and is the base we use to make our essential oil diffusers. Unlike DPG and other diffuser bases, Augeo evaporates fully and does not have the metallic or chemical odour associated with other bases. We love using this new and exciting product and are delighted to offer it to our customers as a more natural alternative to DPG.
If you plan to export your diffusers to the US, base materials can often be problematic; but not this material. Augeo is fully compliant with CARB regulation in USA, meaning it is not classed as VOC (vapour pressure below 0.1 mg Hg). This means the Augeo does not contribute to the VOC content of the final product, which was 18% at the time of writing. This allows for high levels of scent loading (15-20%) without breaching the CARB regulations.
Augeo works extremely well with Reeds in Diffusers, but is equally suited to a wide array of home fragrancing products, including room & linen sprays.
Features include.
* Fragrance Enhancement
* HSE Profile Improvement
* Eco Friendly Product
* Solubility Power
* Lower Carbon Footprint
* Low Odour
* Non Toxic
We are delighted to be sharing this product with you. It is not as natural as we would like but it is without doubt more natural than anything else we have encountered.


In a Nutshell
Appearance Clear mobile liquid
Colour Colourless
Odour Slight
Specific Gravity at 20°C 1.067 - 1.071
Water (%) 0.10
Purity % 99.5
Acidity (ml/g) 0.02
Flash point 91°C CC (Closed cup).
Evaporation rate 0.03 (butyl acetate = 1)
Vapour pressure 0.05 hPa @ 20°C
Vapour density ~ 2.6
Relative density ~ 1.069 @ 20°C
Viscosity 11 mPa s @ 20°C

Solubility(ies) Miscible with the following materials: Hydrocarbons. Alcohols. Esters. Ether. Soluble in water.
SMALL PRINT
Technical Data - MSDS Sheet available on request - Bottle Carries Batch Number and Expiry Date
Shelf Life - Our essential oils all have a shelf life in excess of 12 months. However, as with any essential oil we recommend using it within 12 months of opening
Storage - Keep lids on and integral droppers in place - Always keep in Original Bottles - Keep out of the reach of Children and Pets - Store out of Direct Sunlight at normal room temperature
Use - Not for Internal Use - Do not use on Skin Undiluted - If you have a medical condition particularly pregnancy, blood pressure problems or seizure conditions then please see medical advice before using any essential oil. Essential Oils are not an alternative to medical care - always seek help from a medical practitioner - Do not stop taking any medication unless on the advice of your doctor
Allergies & Sensitivities - Always do a patch test before using the oil on the skin - If irritation occurs discontinue use
Disclaimer - Any information provided by Mother Nature's Goodies is not intended to diagnose, treat, cure or prevent disease. The use of any information provided is for the sole responsibility of the user. We advise you to consult with your doctor or health care professional prior to using Essential Oils.
Product Videos
Custom Field
Perfect Fragrance Volatile Carrier
.
Product Reviews